Simmons Environmental Services, Inc.
213 Elm Street • Salisbury MA 01952
800-353-3656 • 978-463-6669 • fax: 978-463-6679 •
info@simmons21e.com
---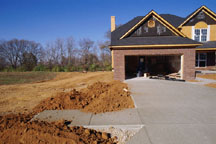 Residential Property
The contamination of residential properties in New England by home heating oil leaks and spills affects thousands of home owners each year. The most common types of incidents include:
An oil leak or spill is one of the most costly problems a home owner may face. A leaking oil tank can lower a property's value. Undiscovered leaks can release hundreds, or even thousands, of gallons of fuel oil into soil and groundwater. In that case, the tank owner is responsible for any site assessment and corrective action mandated by regulatory agencies.
Banks and other lending institutions require that heating oil storage tanks be tested for leaks prior to real estate transfer or refinancing as part of the disclosure policy. Evidence of contamination or leaks may prevent a property sale or the lowering of your interest rate.

Simmons provides comprehensive residential services to deal with leaking storage tanks including, but not limited to:
If you suspect that your oil tank is leaking or your property is contaminated, contact Simmons Environmental Services. Fast action can protect your investment and the environment.