Simmons Environmental Services, Inc.
213 Elm Street • Salisbury MA 01952
800-353-3656 • 978-463-6669 • fax: 978-463-6679 •
info@simmons21e.com
---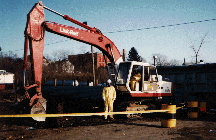 Site Remediation Management
Simmons Environmental Services' expertise delivers practical, cost-effective solutions to your environmental problems. The company understands the complexities of managing the cleanup of contaminated property, whether the remediation is planned or is unexpected. Simmons team members are skilled at developing and implementing creative and cost-effective cleanup solutions. The team works closely with you, as a team member, to select and implement alternatives that minimize cost and efficiently achieve regulatory approval.