Simmons Environmental Services, Inc.
213 Elm Street • Salisbury MA 01952
800-353-3656 • 978-463-6669 • fax: 978-463-6679 •
info@simmons21e.com
---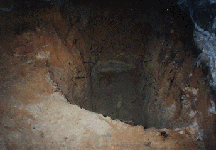 Underground Storage Tank Management
Leaking underground fuel oil tanks pose serious liability issues for property owners, banks, mortgage holders and others. Reviewing this liability is one of the many duties of a licensed site professional (LSP) when conducting a site assessment.
Serious environmental damage from leaking storage tanks and fuel lines are increasingly taking a financial toll on owners since many insurance companies will not provide coverage in this instance. William A. Simmons, LSP, of Simmons Environmental Services, Inc., of Salisbury, Mass., recommends removal of such threats.
At the very least, prospective buyers and banks should insist on soil sampling to protect their interests, he says.
Removing underground storage tanks is not as simple as calling a back hoe operator, Simmons warns. Property owners, and especially those seeking to buy property, should have soils tested around buried tanks to ensure there has been no leakage. Failure to do this leaves owners at risk of legal action from the state and other abutters. Delaying cleanup after leaks and spills have occurred only compounds the problem and adds substantially to cleanup costs.
If a leak has occurred, an LSP can determine the extent of contamination, develop the most cost-effective cleanup approach and submit required plans to the state.
If an abutter suspects a neighbor's tank has discharged fuel, it is also a good idea to conduct a thorough environmental assessment of the abutter's property. Even when no discharges have occurred, it is a good idea to hire a properly licensed firm to document conditions and help protect owners from future legal liability.