Simmons Environmental Services, Inc.
213 Elm Street • Salisbury MA 01952
800-353-3656 • 978-463-6669 • fax: 978-463-6679 •
info@simmons21e.com
---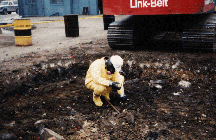 Site Assessments
Simmons has performed hundreds of extensive assessments of commercial and residential property. The company's environmental site assessments can significantly reduce risks to you and your lending institutions. Simmons conducts these investigations in a step-wise, cost effective manner at commercial, residential, industrial and undeveloped properties.
A site assessment can help you assess environmental risk and avoid potential liabilities. The innovative approach of Simmons Environmental Services puts your needs first. Open communication throughout the assessment ensures that you, the client, understand all options before moving forward. You can rely on Simmons' extensive experience and phased approach to meet your needs.